My background as a counsellor
I qualified as a counsellor in 1996, which is when I set up my private practice.
My journey to this point began many years earlier, initially through social work training and case work in Hackney - which I realised was not right for me at all. As time went by I attended brief courses on bereavement visiting and Christian counselling, which were a response to friends coming to talk over with me the issues they faced. I realised that a more comprehensive training was necessary for me to become an effective counsellor and stumbled across the Person-Centred Diploma in Counselling at Weald (now Harrow) College.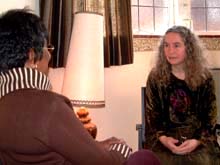 After 7 years' experience of working with clients I felt ready to train as a supervisor of other counsellors. On the Institute of Person-Centred Learning's course in 2003 I learned about a collaborative approach where supervisor and supervisee are working together to understand issues which arise for the supervisee in his/her client work. After five residential weekends of study and practice I began working with both trainee and qualified counsellors. I completed my Diploma in Supervising Person-Centred Practice with a final presentation to three of my peers and tutors in March 2005.

I began teaching in September 2003, on a Basic Counselling Skills course at East Berkshire College. The following year I moved to Buckinghamshire New University (BCUC as it was then) in High Wycombe to teach the person-centred H.E. Diploma in Counselling. I continued teaching with one break of five months until the course ended in the summer of 2010.

I am married, with two grown-up daughters. I have lived in Harrow since 1990, and before that in Wembley. For over 20 years I have been a member of Kenton Baptist Church, where I contribute to music and worship.

< To top of page >



Qualifications

Diploma in Counselling (Middlesex University) 1996

Diploma in Supervising Person-Centred Practice 2003

Postgraduate Certificate in Learning and Teaching in Higher Education

MA in Focusing and Psychotherapy (UEA) 2009

Certificate in Reflective Practice and Pastoral Supervision (IoPC at Spurgeons College) 2020

Affiliations & Professional Memberships


Registered Senior Accredited Member of the British Association for Counselling and Psychotherapy (BACP)

Member of The Person-Centred Association (TPCA)

Member of the Association of Christian Counsellors (ACC)

Member of the British Focusing Association (BFA)

Member of the Association for Pastoral Supervision and Education (APSE)

Registered Counsellor with the Churches' Ministerial Counselling Service (CMCS)

< To top of page >